Andrea
, one of my all-time favorite bloggers, is hosting a Show & Tell today about our hometowns.
Let's jump right in.
I'm from a small-town in south-central Kentucky called Glasgow. Around here though, especially in high school, we would go by counties, so, I'm from Barren County. We are almost exactly the same distance from Louisville and Nashville.
Glasgow has a population of about 15,000 people and the county has about 48,000 residents. We aren't tiny by any means, but definitely small. I mean, we do have more than one grocery store and stoplight. ;)
Our town is mostly industrial and agriculture based. We have lots of factories and farmers. Tobacco used to be really big, but not many people are tobacco farmers anymore. Most do soy beans, corn, and raise cattle.
Pic from my dad's farm
You're probably thinking HORSES! While there are plenty of horses here, the horse farms are all in the northern part of the state.
My parents bought and sold houses a lot, so I won't share all of those. Let's just say we'd be here all day long.
Covered bridge on the way to my Nanny's house.
We had two high schools in town, one city and one county, and even though I lived in town, I was in the Barren County school district for kindergarten through 12th grade. I graduated with 202 other seniors in 2002. We were the Barren County Trojans. You can imagine where a bunch of high schoolers took that for school shirts and signs. ;)
Senior pic 2002
Our town square holds a beautiful courthouse, in my opinion, and lots of shops on the outer part of the square. We have farmers markets in the spring and summer, and festivals and concerts all year long. It's the hub of the town.
Glasgow, whose name comes from Glasgow, Scotland, hosts the
Glasgow Highland Games
as a tribute to the town's connection to Scotland. There's lots of Scottish music, games, food, etc during the games held every summer. To be honest, I've only been once, and didn't love it. Oops.
The lake is also where you'll find me almost every weekend since my parents have a little house on the lake. With the boat and other toys they have, it makes for a fun, relaxing weekend.
Also close by is
Mammoth Cave National Park
, which holds the world's longest known cave system. I remember we'd take many a field trip there in elementary school. Always interesting. It's nice knowing we have something that people all over the world will travel to see.
While I'm not very outdoorsy, it's an excellent place for hiking, exploring, or even driving around and looking at everything the park has to offer. I really should take advantage of this area more than I do.
We also have a bit of Civil War history in our town. Fort Williams, which is now located in one of the cemeteries in town, was the site of a battle during that war.
The cemetery was right behind my grandparents house, and all of my cousins and I had a lot of fun telling stories and walking the cemetery. We played in the fort lots of times growing up.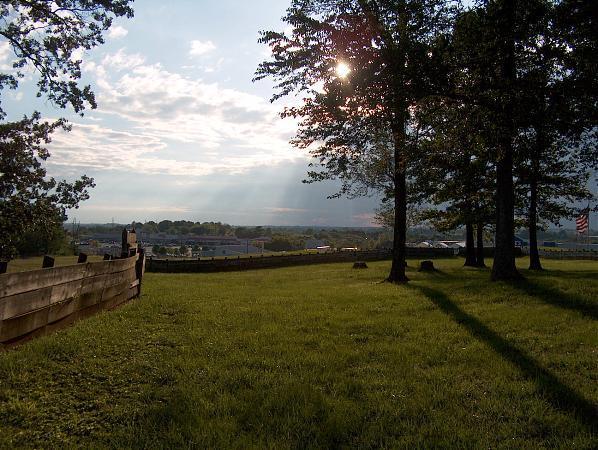 So that's where I'm from!
What do you think? Would you ever visit Glasgow?