These are my obsessions....
Except as I wrote that title, I totally sang it to the tune of Usher's "These are my confessions...." Now you have it stuck in your head too? You're welcome.
I'm completely jumping on the new little blog bandwagon and sharing with you the obsessions I have according to my friends and family. Don't know what I'm talking about? First,
Mama & Mou
did it. Then
Not Entirely Perfect
. Then
Erin
, and now I'm all like, "I have to do it too because it sounds so fun." (Picture me saying that in Amy Schumer's voice while waving my hands around, because that's how it happened.
When I asked my friends to give me 3-5 things that they think I'm obsessed with, it was like I had given them the adult version of the ACT. I got calls and texts saying, "In what context? What will this be used for? What do you mean? Are these what you're looking for?" My friends are so serious, right?
And y'all. The answers were all over the place. I giggled on many of these, but most of them are so accurate. Just wait.
Purses
9/11 people said purses. I can't imagine why. It could be because I'm constantly looking for a good deal on a Kate or a Michael. Bargains are my friends. My besties, if you will.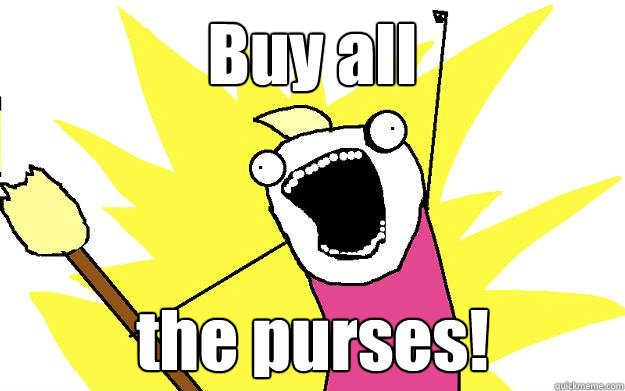 Shopping- 5/10
Because duh. I'm surprised this wasn't 10/10.
Jewelry- 4/10 (Silpada 1/10)
I sell
Silpada
, and always have at least 10 pounds of it on- earrings, necklace, bracelets, rings...you name it, I'm wearing it.
Shoes- 3/10
Seriously. No matter what size you are, shoes always fit. That's why I love them.
Unlike the bloggers I mentioned above, most of my folks were not saying the same things about me; which just confirms that I'm all over the place and apparently, a hot mess.
Here's what else came up- good food, puppies, my dog Mia, home decor, the movie Bridesmaids-
I watch every time it's on tv!
, world piece-
hahahahaha
, leopard print, reading, friends, my appearance, where people live, my family and niece, clothes, Netflix, changing cars, and social media.
Even though there were tons of different answers, I'd say these crazy cats were spot on.
What do you think I'm obsessed with?