It's hump day, you guys. And you know how much I love hump day!
I haven't done a So What Wednesday post in a long while, so that's what you get today. I'm full of sass today, so this is perfect.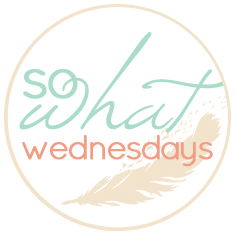 So what if
I drink my coffee through the stirrer straw. It's so much easier, I think.
So what if
I use self-depracating humor on
Twitter
. It's funny, right? Don't you all think it's funny when people make fun of themselves? It's nicer than making fun of other people!
So what if
I'm a
tad bit
rude to other people on
Twitter
. It's a sounding board, people! I'm not the only one!
So what if
I tell my friends I'm going to cunt punt them when they say something smart-assy to me. You can think that
sorority chick
for that line. It's a classic.
So what if
I call everyone a heifer. It's not meant to be bad. It's like saying, "Hey, girl!" Except I use heifer. Don't be offended.
So what if
that's all I've got today. It's hump day and I've got some humpin to do. Wait....Uhh, no.


By the way, do not google hump day images. Just save yourself the embarrassment.
Ta ta for now, kids!