Happy Monday, y'all! Question of the day.....Where did that weekend go? It totally flew by, right?
I'm linking up with Carissa @lowercase letters for Miscellany Monday.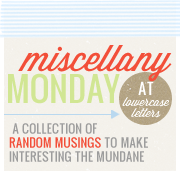 My Friday was completely laid back, which is nice sometimes. I cooked a pizza in the oven, watched
The Ugly Truth
, or at least part of it until I fell asleep, and read a ton in my book.
Mom and I made a trip to Lowes, picked up some of that edging block stuff, came home and got it laid down. Then we went to get some gravel for it. We took about a million gazillion breaks, and actually had one of the guys to finish it. It was hot, my friends. And hard to rake/shovel/push that heavy load of rock around. A few hours later, we called it a day. (Pictures later).
I showered, changed, sat around for a bit before getting bored. I headed to UGI, a local gift shop, and picked up a Vera e-reader sleeve. LOVE it! I had a leather thing, but didn't like it as well. The top of the thing didn't secure the Nook, and it kept sliding out. Not good for this klutz!
I love this pattern!!
I met my parents for dinner, then my sister and bil picked me up for some house/land hunting. They are moving a county over sometime within the year, so I rode along to look for some possibilities. I swear, we had a good time. I've not laughed that much in a long long time. I think it was one of those, "you had to be there" moments, but it was fun.
After stopping to feed their pets, a storm came in, so we waited it out before they took me home. Insert game time. We played Phase 10, which is fun....except it took like 2 hours, and we were all pretty tired. So glad to see that game end! I do love games, though!
Pride and Prejudice.
If you've been reading, you know I've been trying to get through that book for about 3 years now. I'll read, then get tired and put it away for months. I just can't get through it. So after some readers commented on renting it instead of reading it, I did. The movie was hard to get through as well. I did like the whole love story thing...."You've bewitched me, body and soul." That was a pretty good line, right, Mr. Darcy?
The weather was beautiful yesterday, so I got out and ran to a few stores. Found some awesome goodies at Burkes. Do you all have one of those? I've never found anything in there, but after taking my time and digging, I bought like 6 items for under $60 bucks. Can I get a whooo-hooo?
Speaking of Vicki, did you all see the RHOOC Reunion last night? Vicki is so classy, all the time. Love her. Tamra and Gretchen get on my nerves. Get over everything. It's annoying. Alexis is a psychopath. I mean, really? "The problem with liberal America is that women can do everything a man can do. Women can run for president and work." Ummm....hello? I'm probably one of the most conervative people I know, but c'mon Alexis. You are an idiot!!! I did like Vicki's reaction, "I could run for president. And do a better job than the current one." ....or something along those lines. I just love her! And I really like Peggy too. She seems like a genuine person. I can't wait for next weeks epi. What did you think?