Normally, Monday's posts are used for re-capping the weekend's events. However, my weekend was SO boring, I think it would put ME to sleep just thinking about it again. That's why I love that
Carissa
hosts Miscellany Monday, because otherwise, I would have nothing for ya! Link up. It's fun.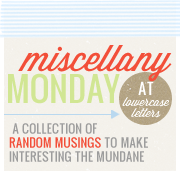 I want to brag on my summer swap partner one more time, because Ashley
@ The Thames Trio
sent me the most fabulous nail polish everrrrr. It's Sephora by OPI (I can't remember the actual name of the color), but it's the perfect pink. I've been looking for ages for a shade like this, and she sent it. I LOVE it! :)
You can barely see the color in this photo, but that's why I love it. Very subtle. (And apologies for the attrocious nails!)
I'm addicted to Simply Orange OJ; I even like the Walmart brand of it, because it is delicious! I drink a glass every morning and sometimes a glass before bed. Yummo.
I tried the "no soda" thing for about three weeks. (I drink diet mostly.) I didn't see any difference in my appetite. Anyone have thoughts on this?
I'm sad that the RHOC's finale was last night. However, I'm pumped for the reunion show next week, because that is the most dramatic and entertaining part of the season. Can I get a whoooo-hooo?
I miss Top 2 Tuesday from the
Undomestic Momma
. It was one of my favorite link-ups! Bring it back, please!