Link up with Carissa at lowercase letters for Miscellany Monday. Whoop whoop!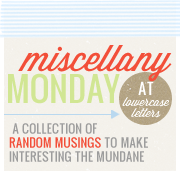 Friday was game night. I love game nights because as I mentioned on Friday's post, there was lots of yummy food (which I ate too much of), tons of laughing, and an awesome time with awesome friends!
Saturday morning was an early one. 3 of us got up before dawn and decided to yard sale in BG. It was all fun and games until the sky turned black, the thunder rolled, and the torrential rain poured down on us. Needless to say, after about 5 stops, our yard saling for the day was over.

Luckily, I grabbed this little charm for a measly $2 bucks. Score!
Cast Iron 3-Tier Stand
We grabbed a drink, some candy, and sat in the Target parking lot until they opened. Yep, we were those people.

We shopped around good ole BG, had lunch with our 4th, and headed home.

I have to admit, I may have not been regular old Mel. Getting up 2 hours earlier than normal had taken its toll on me. I went home and crashed. Nothing like a 3 hour nap!

When I woke up, I cleaned and settled in for He's Just Not That Into You. Wowza--it was good that I watched this again. It reminded me how NOT to be, because honestly, he's just not that into me (according to the movie, which I fully believe).

Yesterday was spent sleeping in, visiting the real dad and my nanny, and then heading home and cooking supper for my family (mom, step-dad, sister, and b-i-l). I cooked my papa's mexican hamburgers, slaw, baked beans, and Symphony brownies. Good times.

I picked these lovelies off my hydrangea bush in the backyard. Love this color! Fresh flowers just make me happy!
What's up with you on this Monday morning?