It's humpday, which means it's time for We Want to Know Wednesday! Go link up with
Shawn
,
IA
,
Janette
, and
Mamarazzi
for the fun!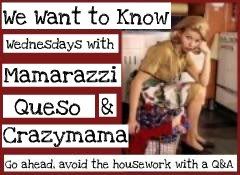 1.} What must you do before you go to bed at night?
I must brush my teeth and take off my makeup!

2.} What is one thing you must snack on at the theater? I don't have to have a snack, although they are nice! But I must have a drink!
3.} Before going on vacation what must you do? I must find a temporary home for my little snugglemuffin, Mia.
4.} What is one thing you must do every day? I must blog and check facebook. It's a nasty little habit.
5.} Is there something you do that must be done in a particular order?
I have the same morning routine, every single day.
Don't forget to enter my Mary Kay giveaway HERE!