Good Monday morning, guys! I feel like I blinked and the weekend was over! Mine was fantabulous, so here is a quick rundown, and some other Miscellany Monday stuff! (Head over to
lowercase letters
and link up!)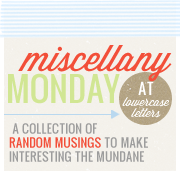 Friday night, I met up with a sweet gal from
Southern Bell Photography
for dinner. I had to pick up some things for a cookout (who knew food for a small group could cost SO much), and she went with me so we could continue our chat. Good times.
Saturday, I woke up at 8, which is early for me on the weekends. I had found some good buys the previous weekend at some yard sales, so I decided to do it again. This time, I found nothing. zip. nada. I wasn't mad, but it was disappointing. I then called one of my besties, and we made the half hour drive to BG to shop. (There is nowhere to shop and few places to eat in my town.) I spent more money that I meant to, but got some things that I needed. Plus, some things were on sale, and I just HAD to get them. Black flats that I've been trying to get for forever. A valance for my redecorated bathroom attached to my bedroom. Movies- Easy A and the Glee Performances. Love me some Glee.
Yeah, that's me on there. They caught me off guard, hence the different background. :)
We ate at one of my favorite places, Cheddars, and then watched the Derby at Whit's sister's house. We also found some gorg heels for my friend's wedding. So happy to have those finally bought!
These are light gold with a ruffle. LOVE!
Sunday, was Momma's day, so I got up, cleaned a little bit, went to church with my parents, and rushed home to prepare for the cookout. Last year, I had my parents, sister and brother-in-law, my aunt (which is Mom's twin), her husband and grandkids, and her daughter's family. So, I decided to continue the tradition. We kept it simple, hamburgers (which looked like meatballs by the time they shrunk to half their original size), hotdogs, baked beans, chips, pasta salad, and dessert. Thanks to my sis for helping me!! We had a good time watching the babies play.
Hunter playing cornhole

Don't you just love this sweet face. He's such a cutie!
I also visited my two grandmothers, my dad, and back home for some rest...finally! I was exhausted. I had trouble sleeping, but slept so well that it was very hard to wake up this morning.
I saw these shoes in my closet this morning that I forgot I had. They still had the tags on them! So, I'm wearing them. Aren't they fun!?
The weather is perfect here in KY. A little warm, but I know this is nothing compared to the summer heat we will have. I'm just glad it's not cloudy and rainy. Today just feels like it's going to be a great day! :)