Head over to
Mamarazzi's
blog and link up. It's fun to post what makes you happy.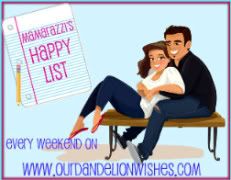 Just finished this book Thursday night. It made me happy. Great book!
I ate here with my best friend one night this week. It didn't let me down; it was delish!
Is there one where you live? 
I love Welch's grape soda.... so much I could drink it daily; I rarely buy it because of this.
Chapstick makes me happy. It's an odd habit, but I have to have it every half hour or so. I have one in my desk, car, purse, living room, nightstand, bathroom...no lie.
Since it is officially spring, I keep seeing tulips in blogs and on the internet. I am dying to have some sent to me buy some from the store to make my house more cheerful. I just love em.
This sight makes me happy; sun shining on a warm day. I haven't seen it in quite awhile, but I'm hoping since I posted it, it may show up again. Please?!

What's on your happy list?