I love linking up, so here is Top 2 Tuesday!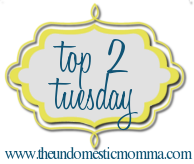 Top 2 Drinks
#1- McDonald's Coke
I love it. I could drink it all day, everyday. It's totally different than regular coke. Yummmmm.
#2- Peach Iced Tee
Ohmygosh. Delish!! Iced tea with peach syrup is the best. thing. ever. For real!!