It's time for another one of my favorite link-ups!!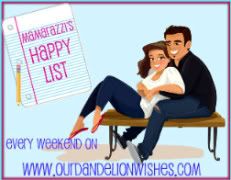 I revised this list to add the biggest happy of happy this week.....
Cats won a HUGE game last night, knocking off #1 seed, Ohio State University! The game was neck and neck the whole time, and KY edged by with a win. It's a good night to be a Cats fan!
Now back the my original list. :)
Item #1: The Game of Things
I will be playing this tonight and it is my all time favorite game! The dirtier, the better! Especially involved with items like my #2.
Item #2: Push Up
I'm not talking about the ice-cream here, folks. It's a fabulous drink involving alcohol, but it does taste JUST LIKE the ice-cream. Yummo!
Item #3: Facebook
What in the world did we do with our time before this awesomely annoying and addictive site? (Like that alliteration in there?)
Item #4: Fun Mail
I love love love getting packages in the mail. It makes my day! And I've gotten a couple this week...thanks to eBay!

What's on your happy list this weekend?